Our grout pumps are of our own design, light, compact and simple to operate, offering a wide range of output capacities and pressures. Flexibility is an important feature – delivery assemblies can be readily exchanged / fitted on each basic pump unit giving a variety of specifications.
All units are designed for materials with 0.4:1 water: solid ratios
HANDY – Hand Operated Grout Pump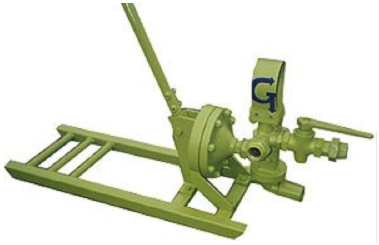 These hand operated units are small and relatively portable, intended particularly for use where fine pressure control or limited outputs are required, The HANDY is operated by a flexible diaphragm, which directs the flow of grout through a smaller version of our own single, delivery valve assembly.
SPECIFICATION
Dimensions (LxWxH)
1270 x 440 x 570 mm (1550 mm with handle)
Maximum Output
22L (5galls)/min
Maximum pressure
14 bar (200 psi)
Weight
53Kg (115 lb)
GS Pneumatic piston type Grout Pump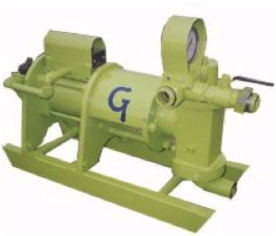 The GS series grout pumps are powered by a rugged single ended pneumatic cylinder. Capacities are almost infinitely variable dependent on piston and cylinder sizes used. The piston and valve assembly on each pump can be readily exchanged for a different size (even on site) providing different output and pressure from the same basic pump unit.
SPECIFICATION
GS25
GS35
GS45
GS55
Dimensions (LxWxH)
1050 x 360 x 650 mm
1050 x 360 x 650 mm
1050 x 385 x 660 mm
1050 x 385 x 660 mm
Maximum Output
135L (35 galls) / min
75L (20 galls) / min
100L (26 galls) / min
55L (14.5 galls) / min
Maximum Pressure
15 bar (225 psi)
27 bar (400 psi)
27 bar (400 psi)
45 bar (650 psi)
Weight
100 Kg (220 lb)
100 Kg (220 lb)
125 Kg (275 lb)
125 Kg (275 lb)
Air Consumption
130 cfm @ 7 bar
130 cfm @ 7 bar
188 cfm @ 7 bar
188 cfm @ 7 bar
GD Pneumatic diaphragm type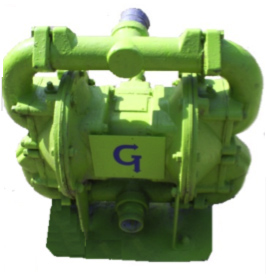 The GD400 is a high volume double diaphragm pump, manufactured from aluminium to keep weight to a minimum. The GD400 is a flap valve type pump which copes with a variety of grouts.
SPECIFICATION
GD400
Dimensions (LxWxH)
550x350x500
Maximum Output
400L (105galls)/min
Maximum Pressure
7 bar (100 psi)
Weight
45Kg
Air Consumption
60 cfm @ 7 bar